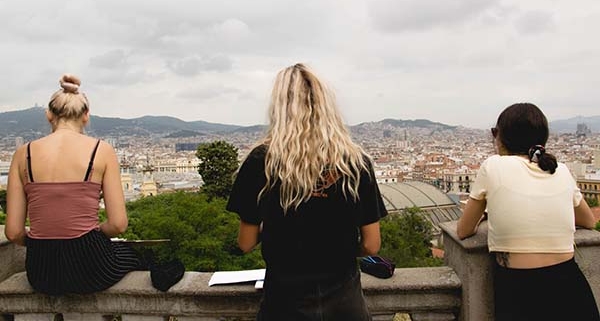 New beginnings, Explosive Creativity
Even if Metàfora's Studio arts Program has many continuing students, the first block of the academic year is always very special. Everyone move into the studios, getting ready  for a new semester. New faces, excitement and fresh starts for everyone!
Below is an overview of the classes offered during Block 1, 2022-23.
The classes are supplemented by Tutorials, Paint and Sculpture Lab (technical consultations), Presentations and Discourse Reviews, among other activities. 
Scheduled classes for Block 1
Tools & Techniques (for All Students)
Every Studio Block offers a series of programmed classes in different tools & techniques, covering common techniques within graphic expression such as painting as well as 3 dimensional work.
Modeling with Different Materials (Oriol Texidor)
We start out the first block of the year with a sculpture class which touches on basic materials and techniques such as clay and plaster, but also other materials like wax, soap or plasticine in order to learn the main intention of any sculptor which is to transform the shape of a material. We work with small and bigger projects, learn how to prepare the base and the inner structure and explore the final possibilities, such as casting or firing. Learning to sculpt is something you never get tired of and is often one of the most important aspirations of our students.
Light in Painting (Piotr Perski)
Every block has a painting class running through it, but Block 1 is special, because it is the first one of the year, and students start out with lots of "explosive" energy. This is your chance to explore the painterly medium in depth, work on large canvases and experiment with colour, composition and space. In the first block we play with light and representation and cover information on a large number of artists for whom light has been a central component of their discourse.
Stop Motion Animation (Marc Larré)
In this eye-opening workshop students learn how to use Stop Motion to produce artistic projects. We look into early cinema, the uses of stop motion in contemporary art and also, why not, advertisement. With basic equipment, like mobile phones, we discover apps and software available to make our lives easier. At a later point students work with Premiere or iMovie to produce projects more professionally.
Life Drawing classes (Piotr Perski)
Over the academic year this class is a weekly ongoing event, and Piotr makes the most of this different dynamics to help students to develop their own expression and language in drawing.
Recent Art history / Theme (Foundation Program)
Every week we expose the student to different currents in Recent Art History. This class is obligatory for students on the Foundation program and open to all students. It is necessary to have passed this class to access the 2nd level of Metàfora's Training Program. These lectures at encouraging students to build a personal discourse informed by what is happening today in Contemporary Art.
Scale and Abstraction (Recent Art History, Helena Pérez)
This theme is a transversal examination of scale in recent Western art practice. It accompanies students in the joyful freedom of having the chance to dive into full time art practice for the first time. Experimenting with scale and reflecting over the ideas associated with it is the ideal companion for testing one's limits and discovering new ways of working. "Scale and Abstraction" offers a playful revisitation of different moments in the 20th century (Abstract Expressionism, Minimalism, Land Art, Pop and contemporary installations). At the end of the block students are asked to complete small test to demonstrate their knowledge on the material exposed. This class is obligatory for all TP1 students, and for TP2 students who did not complete them during their first year.
Workshop (Certificate / Diploma)
This workshop is designed to push our intermediate and advanced-level students out of their comfort zone and work with materials and reflection processes which they normally do not engage in. The workshops can be everything from "The Materials I work with, the Ideas I investigate" to "Contemporary painting, even for those who do not paint" and are meant for push the discourse and investigation of the student into – perhaps – unknown territory. The class is obligatory to all 2nd and 3rd year students. If there are extra places, students from the Foundation Program can attend.
Installation and Sound (Laura Llaneli)
Sound art is an artistic discipline in which sound is utilised as a primary medium or material. Like many genres of contemporary art, sound art may be interdisciplinary in nature, or be used in hybrid forms. Most of the time, when we do artistic works we give all the importance to what refers to the visual. We think about the video before we think about the sound or how we should place the speakers in the room, for example. This workshop is focused on opening the listening to understand that sound is a very useful tool in our projects.
Debate & Assignment (Certificate / Diploma)
This weekly debate group  is designed for students on 2nd and 3rd level. The contents of this space varies from block to block, sometimes more theoretical, other times more practical. There may be some readings involved. The class is obligatory to all 2nd and 3rd year students.
Fluxus (Arash Fayez)
This class, which most often adopts a seminar-like style, is meant to be somewhere between a theory talk and a practical workshop. During Block 1 we explore the movement Fluxus and its influence on today's art. The class will consist of talks, exercises, presentations and debate.
Critical Theory (Certificate / Diploma)
This class is a natural transversally themes follow up to the first year of Recent Art History. The weekly sessions are dedicated to transcendental areas or recent critical theory in visual arts, such as Aesthetics, Postcolonial Theory, Queer perspectives, Feminist and post-feminist thought, Semiotics in Visual Art,  Psychoanalysis & the Subject.  The class is obligatory to all 2nd and 3rd year student.
Art & Objecthood: Greenberg, Fried, Graham Hartman (Michael Lawton)
Recent trends in philosophy seek to update the ways through matter, objects, bodies –in a word, reality, can be took in account in thinking. These have also entailed a powerful effect on refreshing the ways artists focus on the material layer of the art, after some decades of discursive and linguistic prevalence. Graham Harman, a major figure of the so-called OOO (Object-Oriented-Ontology), has even declared concerning the possibilities of acquiring real knowledge of reality that "aesthetics is the root of all philosophy".
À-Lab (Certificate / Diploma)
Once a week we have a class which is dedicated to getting to know the local art scene, while at the same time helping students to develop and refine their artistic discourse: talking about art and getting to know local and no-so-local artists. Open to all students, but obligatory to all 2nd and 3rd year students.
Make Macba Yours
During the first block we will make the most out of our collaboration with Barcelona's Contemporary Art Museum, MACBA. Every we go there to explore the collection in under the title "Make Macba Yours".
Contact us for more information.
Follow this link for the application page.