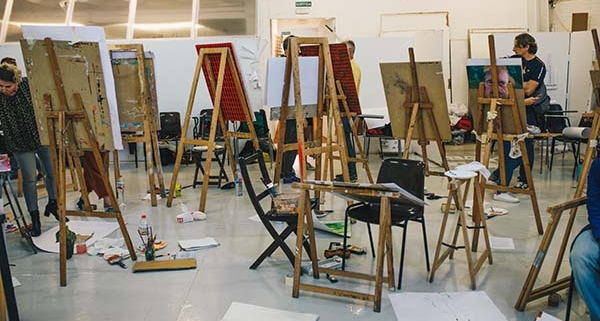 After a long winter vacation, students return to Metàfora in January. The focus is on new techniques and exploration of the creative process. Students turn to in-depth exploration of new techniques and reflection on artistic discourse.
Below is an overview of the classes offered during Block 3, 2022-23.
The classes are supplemented by Tutorials, Paint and Sculpture Lab (technical consultations), Presentations and Discourse Reviews, among other activities. 
Scheduled classes for Block 3
Tools & Techniques (for All Students)
Every Studio Block offers a series of programmed classes in different tools & techniques, covering common techniques within graphic expression such as painting as well as 3 dimensional work.
Academic Drawing and Painting (Piotr Perski)
An introduction to academic drawing; Still-lives and sessions of model (long pose, full size drawing). We work with charcoal and pencil, but also acrylic painting.
Paper and Wood (Oriol Texidor)
The title of this workshop hides several experiments of translations between two dimensions and sculptural thinking. It is a must for any students with aspirations towards sculpture or installation. It is a technical journey to get to the "soul of sculpture", focusing on joining materials and building volumes through folding, adding, gluing or taping natural materials such as paper and wood. We work with geometry, structure and balance, and finish off with polishing, varnishing or painting.
Digital Photography (Marc Larré)
This course will introduce participants to photography in the context of contemporary visual culture. Each class is divided in two parts. The first one is informative and the second one is a practical exercise. The classes will be open to specific suggestions from one week to the next. For example, composition, lighting, staged photography, etc… could be considered if enough students are interested.
Life Drawing classes (Piotr Perski)
Over the academic year this class is a weekly ongoing event, and Piotr makes the most of this different dynamics to help students to develop their own expression and language in drawing.
Recent Art history / Theme (Foundation Program)
Every week we expose the student to different currents in Recent Art History. This class is obligatory for students on the Foundation program and open to all students. It is necessary to have passed this class to access the 2nd level of Metàfora's Training Program. These lectures at encouraging students to build a personal discourse informed by what is happening today in Contemporary Art.
Who is the "I"? , Identity through 20th century (Recent Art History, Helena Pérez)
The crisis of the concept of the "Subject" is crucial to understand Twentieth Century postwar culture.
Recent past practices are responding to an endless crisis of subjectivity, that effect of modernity described by Liah Greenfeld or Richard Sennet, being also reflected in a myriad of phenomena, from the end of enlightenment to the birth of the Unconscious.
Workshop (Certificate / Diploma)
This workshop is designed to push our intermediate and advanced-level students out of their comfort zone and work with materials and reflection processes which they normally do not engage in. The workshops can be everything from "The Materials I work with, the Ideas I investigate" to "Contemporary painting, even for those who do not paint" and are meant for push the discourse and investigation of the student into – perhaps – unknown territory. The class is obligatory to all 2nd and 3rd year students. If there are extra places, students from the Foundation Program can attend.
DISTURBING DISTRIBUTION (FRANCESC RUIZ)
The well established and recognized artist Francesc Ruiz takes the intermediate and advanced level students on a journey into logistics, alternative publishing and disappearing.
Debate & Assignment (Certificate / Diploma)
This weekly debate group  is designed for students on 2nd and 3rd level. The contents of this space varies from block to block, sometimes more theoretical, other times more practical. There may be some readings involved. The class is obligatory to all 2nd and 3rd year students.
On Falsity (Rubén Verdú)
Art, sometimes, is seen immune and unresponsive to the avalanche of troubles that surround us. In this stressed scenario, should it just act succinctly in such a strictly self-centered way? If that is not deemed appropriate, should it respond with tools other than those that have long lost their rhetorical sharpness? Can we find ways to address these shortcomings? If the stand thinkers take in relation to prescient issues of contemporary relevance centers mostly around an impending political crisis (failing democracy), the spread of falsity (fake news) and a deeply troubled perspective focused solely in advancing humanity (anthropocentrism), are we ready to advance an alternative cultural practice?
Critical Theory (Certificate / Diploma)
This class is a natural transversally themes follow up to the first year of Recent Art History. The weekly sessions are dedicated to transcendental areas or recent critical theory in visual arts, such as Aesthetics, Postcolonial Theory, Queer perspectives, Feminist and post-feminist thought, Semiotics in Visual Art,  Psychoanalysis & the Subject.  The class is obligatory to all 2nd and 3rd year student.
Feminist Theory & Politics (Ariadna Guiteras)
À-Lab (Certificate / Diploma)
Once a week we have a class which is dedicated to getting to know the local art scene, while at the same time helping students to develop and refine their artistic discourse: talking about art and getting to know local and no-so-local artists. Open to all students, but obligatory to all 2nd and 3rd year students.
During this Block we invite different practicing artists to Metàfora to talk about their work and practice.
Contact us for more information.
Follow this link for the application page.